Winner of the Christianity Today book award for Children and Youth, Risen Motherhood co-founder Laura Wifler takes you on a journey through the story of the Bible and helps us discover that, all along the way, God has always wanted us to talk with him. Use this book to teach your kids a biblical understanding of prayer, why it's amazing, and that they can enjoy talking with God about anything, anytime, anywhere. Also, check out the companion coloring/activity book too!
Winner of the Christianity Today book award for Spiritual Formation, author and pastor Rich Villodas offers a book for our time. All around us is evidence of believers who are deeply committed to being Christian without ever being deeply formed by the way of Christ. The Deeply Formed Life lays out a fresh vision for spiritual formation following five key values that root us in the way of Jesus. An additional discussion guide is available for groups to read and study together.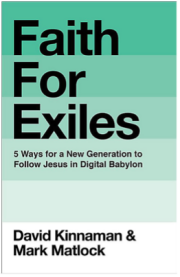 Negative perceptions. Church dropouts. Prodigals and nomads. It's easy to get discouraged by all that's going wrong when it comes to Christianity and the emerging generation. Yet what's going right? In fact, signs of hope are springing up all around. Recommended for anyone looking to understand ways teens and young adults are navigating a digital world with resilient and sustaining faith.
Discover this updated and combined edition of two bestselling books. Gold Medallion winners Fearfully and Wonderfully Made and In His Image have been completely revised and updated to offer a new audience timeless reflections on the body. Join the renowned late surgeon Dr. Paul Brand and bestselling writer Philip Yancey on a remarkable journey through inner space – and gain new insights and appreciation for the wonder of the human body as well as lessons on the ways the church is called to be the body of Christ.
This is the essential collection of classic stories that established Flannery O'Conner as an American master of the short story. Steeped in a Southern Gothic tradition that would become synonymous with her name, O'Connor merges the reality of God's grace with the grotesque in ways that are all at once shocking and humbling. As a prophetic product of its time, some stories contain language that is vulgar and offensive. Due to the nature of some of the material, this book is not recommended for younger readers.
Is reading the Bible the easiest way to lose your faith? Whether you are a Christian, a doubter, or someone exploring the Bible for the first time, bestselling author Dan Kimball guides you step by step in how to make sense of difficult and disturbing Bible passages. Filled with stories, visual illustrations, and memes reflecting popular cultural objections, How (Not) to Read the Bible is a lifeline for individuals who are confused or discouraged with questions about the Bible.
Oikos is an old word that means "household." It referred to a specific network of relationships that functioned as an extended family with a specific purpose. And of course "nomics" refers to economics, which has to do with how we invest, exchange, and grow the various kinds of capital that we possess. So Oikonomics is about the economy of our oikos, the way our household invests its time, energy, and money. As we seek to live as Families on Mission, the way we invest our time, energy, and money directly affects how effective and fruitful we become. It's a big discipleship issue, and Oikonomics looks at how Jesus did this with his Family on Mission and how we can imitate him in it.
Taking a cue from Dallas Willard's assertion that "hurry is the great enemy of the spiritual life", pastor and author John Mark Comer charts a fascinating roadmap to staying emotionally healthy and spiritually alive in the chaos of the modern world. Read this book in conjunction with our year-long theme of Worshiping and Glorifying God as we focus this summer on Worshiping at Rest. This is another great option to read together with a group. You can check out videos and a study guide using Right Now Media.
Selected for this summer's Women's Book Club at CrossLife, women can join the discussion on Tuesday, July, 19th at 7:00 pm. In this hustling, image-forward age of opportunity, we feel more anxious than ever. Despite all the affirming memes and self-reflections that dominate social media feeds, approval and worth often seem assigned to what we do rather than who we are. And we end up constantly feeling like we're behind, lacking, and failing—at home, at work, with friends, with God.
Janner Igiby, his brother, Tink, and their disabled sister, Leeli, are gifted children as all children are, loved well by a noble mother and ex-pirate grandfather. But they will need all their gifts and all that they love to survive the evil pursuit of the venomous Fangs of Dang, who have crossed the dark sea to rule the land with malice. The world that Andrew Peterson creates and the characters he brings to life lead to an adventure for the whole family. Highly recommended for families who read or listen to books together. This series is just fun!