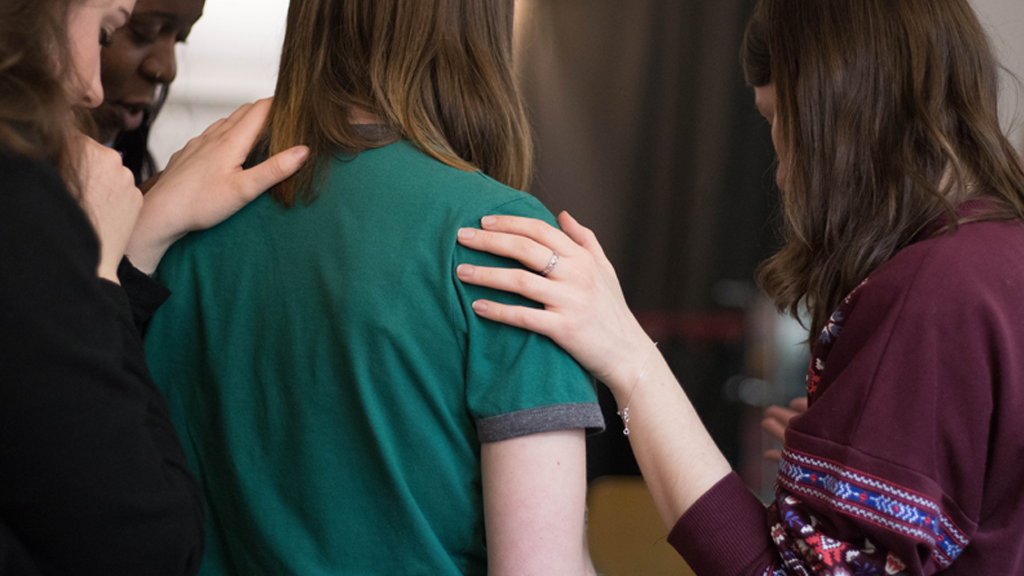 People who understand the grace of God give generously to others in need. We talked about that last Sunday during our worship. Then, immediately after our service, we had an opportunity to practice it. There was a family sitting outside our main entrance with a sign asking for help. One of our pastors talked with them and then got our Benevolence Team involved. We provided them with some immediate help (a gift card to an area store), and the Benevolence Team spent time getting to know them in order to determine if we should provide any additional help. Meanwhile, I noticed another family dropping off some diapers for them shortly after we gave them a gift card.
The reason I share this is because the need was visible enough that you deserve to know how we responded. Also, this will give you a window into how our Benevolence Team operates. Most of the requests we get are not visible to everyone. We're aware some folks asking for help have learned to "work the system," so we try to investigate the circumstances before helping with larger, long-term needs. At the same time, we'd rather err on the side of generosity. Thank you for caring for this family in need.
In Sunday's sermon, I mentioned Paul and the Power of Grace, a fine book by John Barclay. I'd like to share some of his observations in my letters today and next week. Barclay's study of what the Apostle Paul taught about grace in his letters can help us better understand this foundational idea. After all, we stand in the tradition of the Protestant Reformation which emphasized how salvation is "by grace alone."
Grace is undeserved favor, and God expresses it to unworthy people—the "ungodly" (Romans 4:5; 5:6). To put it another way, Barclay says the "Christ-gift" was an "unconditioned gift that did not match the worth of its recipients but created it." That's profound. God did not give us the gift of Jesus because of our worth. Instead, the gift of Jesus is the basis for our worth. It is a free gift in that we do not have to earn it. God took the initiative, providing it for us while we were still sinners (Romans 5:8). This is grace.
Yet it's an overstatement to say grace is completely "free" or "unconditional." Barclay says grace "is given 'freely' in the sense that it is given without prior conditions and without regard to worth or capacity. But that does not mean that it comes with no expectations of return, no hope for response, no 'strings attached.'" Although we are "under grace" (Romans 6:14), this grace provides us with "the new self, founded on a new source of life." Grace expects us to live a certain way. Titus 2:11-12 makes this crystal clear: For the grace of God has appeared that offers salvation to all people. It teaches us to say "No" to ungodliness and worldly passions, and to live self-controlled, upright and godly lives in this present age. After all God in his grace has done for us, how can we do less than live completely for him?!
Priscilla and I are on vacation. We drove to Rapid City, SD on Monday. Then we drove through Yellowstone National Park on Tuesday evening. Yesterday morning, we drove through Teton National Park and then to the Denver area where we arrived in time to take our son, Luke, and his family to dinner to celebrate Luke's birthday. We will be staying with Luke, Janzyn, and baby Jacob until we head for home on Monday, August 15. Jacob's first birthday is next week (August 10), and Luke and Janzyn are dedicating him to the Lord next week as well.
This Sunday, August 7, Pastor Brad will continue our series on Jesus' parables by preaching Matthew 13:44-52 on the parables of the hidden treasure, the pearl of great price, and the net. We will also share in communion (the Lord's Supper).
Finally, on the family front, our granddaughter Taryn (5) in Peoria told her parents they would be grandparents someday. Taryn's mom, Nicole, said, "Yes, but only if you get married and have kids." Taryn's response was, "Okay. I guess I'll kiss. That's the gross part." As the discussion continued, Nicole said, "God has a plan. Daddy and I already pray for the man you will marry." After Taryn took a moment to think about this, she replied, "I hope God gives me one with a beard!" Well, okay. I'm sure her priorities will change as she gets older. Thanks for reading. Grace and peace to all of you.